The Anarchic Kingdom: a New Game Coming Soon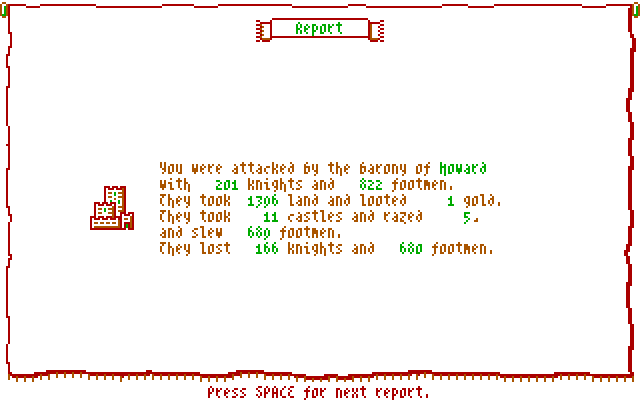 Saturday, 1st May 2021
A new game from Cyningstan is on the way! The Anarchic Kingdom is a quick and simple strategy game for DOS PCs, and has entered its beta test phase today. Time-limited test versions are being distributed to members of our Discord server, which everyone is welcome to join. The game has been written for the DOS Games Spring Jam 2021, and it should be ready for release some time in May.
The premise of the game is that eight barons are fighting it out over a year till a new king comes of age, in order that one should become Top Dog and gain influence over the new king once he takes control. Players build castles, train knights, and draft footmen from their peasants, and use these forces to take land and gold from each other, or to defend their baronies against similar attacks coming their way.
If this takes your fancy, then keep an eye on this blog and The Anarchic Kingdom's own game page for further developments!